I've never been to an Ugly Christmas Sweater party before, but it seems like it would be fun! The idea of everyone voluntarily looking ridiculous is amusing. I started looking around to see what ideas I could put together if I was to throw an Ugly Christmas Sweater party, and boy did I find a lot! If you love this theme and want to plan your own tacky celebration, I hope you will get inspired by these ugly Christmas sweater party ideas.
Invitation ideas
You need to set the mood for your party right from the start. This means that the invitations should show exactly what your friends and family are in for at this shindig. What to include on the invitations:
Date/time
Address
Will there be a contest and prizes?
Is there a penalty for not wearing an ugly sweater?
Are kids invited?
Do they need to bring any food?
RSVP information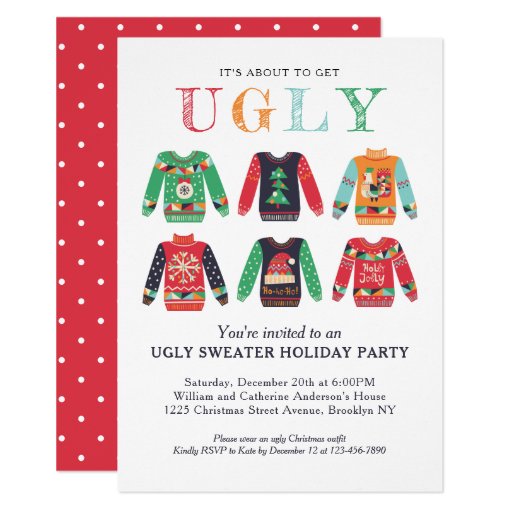 Or you can get one of these fun personalized invitation ideas:
Sweaters for men
You can have a great time picking out a tacky Christmas sweater for your party. In my opinion, the funnier the better. I think the one with two snowmen below is my favorite, and then the sloth one – love it!
Alternative ugly Christmas ideas for men
Is it too hot for a sweater where you live? You can find a lot of alternatives that will still work for your tacky Christmas party.
Sweaters for women
Women have a lot of Ugly Christmas sweaters to choose from too! My favorite is the Go Jesus one.
Alternative ugly Christmas ideas for women
Women have some really nice alternatives to the ugly Christmas sweater. T-shirts, sweatshirts, and even sweater dresses!
Ugly Christmas sweater voting and winners
If you're going to make people wear ugly sweaters out in public, there better be a competition. Have a fashion show so everyone can see all of the tacky sweaters, and then remember to have people cast their vote for the ugliest sweater. Here are some cute ballot and ballot box options:
After tallying the votes, you should have a prize for the winner. No need to get something extravagant, a ribbon or small trophy will do. The winner will just be happy to be recognized!
Additional ugly Christmas sweater ideas
As you can imagine, there is no shortage of tacky ideas you can use at your party. Here are some extras for you to think about:
Have you ever been to an ugly Christmas sweater party before? Have any ideas to add?
More survival techniques: