This post contains affiliate links.
Looking for a more upscale way to celebrate Fourth of July this year? Forget the picnic tables and paper plates and opt for more stylish party supplies. Here are some ideas that will be a hit at your next posh patriotic party.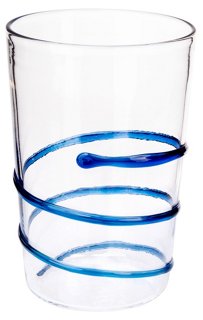 Turkish Spiral Tumbler, Blue – $30.00
With its clean lines and flowing curves, this lovely spiral glass is at once traditional and modern. Handblown from high-quality borosilicate glass, it is lightweight and more durable than regular glass. Made in Turkey. Inspired by the natural beauty and vibrant culture of Istanbul, Simple Life Istanbul was established in 1998 to promote the elegant simplicity and impeccable quality of Turkish design. Beginning with their iconic peshtemals, traditional Turkish Hammam towels fabricated in the finest Turkish cotton designed with a modern twist, Simple Life Istanbul has expanded its offering to include a wide range of textiles, all-natural bath & body products, hand-crafted tableware, hand-blown glass, and home fragrance.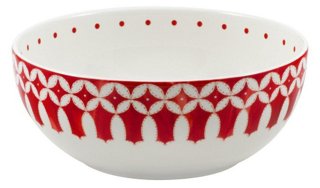 Sevilla Salad Bowl – $66.00
Rendered in a bright, colorful motif, this earthenware bowl is welcome any time at our table. It's also dishwasher and microwave safe. The Casa Alegre brand draws inspiration from southern Mediterranean culture, which embodies a relaxed and casual lifestyle. Made in Portugal, this diverse collection includes fine porcelain, earthenware, and stoneware products, along with glassware (tableware and decorative). Each piece is intended for everyday use and designed with color, shape, and personality in mind. Mix and match pieces for a unique harmony that will enrich the specific character of the home.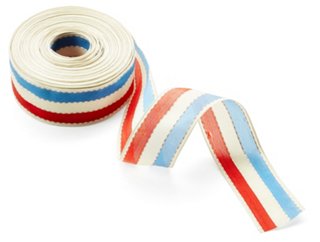 1.5″ Wired Stripe Ribbon, Red/Blue/Ivory – $19.00
In red, blue, and ivory stripes, this wired ribbon will bring color and charm to any gift. A family-owned and operated business, May Arts was founded in the early 1980s in Riverside, Connecticut and quickly found its niche–providing a superior selection of top-quality ribbon, including sheer, satin, grosgrain, silk and a variety of patterns and prints. From tying off the perfect present, to crafting and scrapbooking, decorating and more, May Arts' ribbons are always a beautiful choice.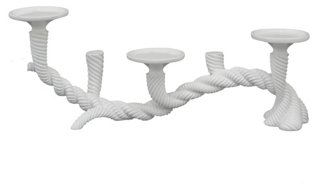 21″ Loewy Candelabra, White – $39.00
Lighten and brighten with this resin candelabra, styled like an antler with beautiful texture.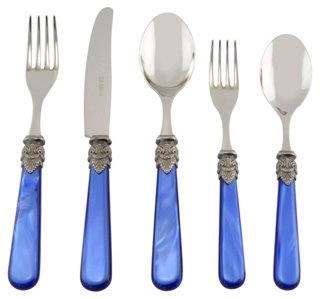 5-Pc Napoleon Place Setting, Blue – $49.00
Shimmering blue handles beautifully contrast the stainless steel tops of this flatware set, which includes a salad fork, dinner fork, knife, tablespoon, and teaspoon.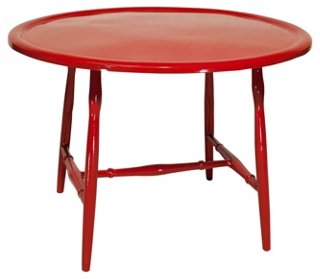 Kieran Cocktail Table, Red – $415.00
A vibrant red glossy finish gives this classic cocktail table a contemporary touch of whimsy. Made of aluminum, it will maintain its vibrancy and charm for seasons to come. Made in the USA.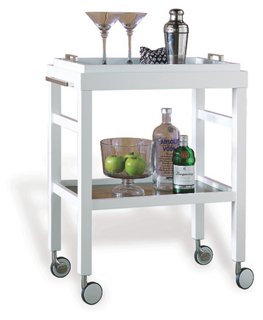 Amelie Bar Cart, White – $539.00
This bar cart has a clean white finish and wheels that allow it to move wherever the party goes.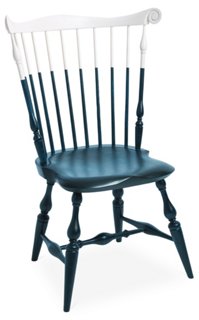 New England Side Chair, Brittany Blue – $815.00
This beautifully made Windsor chair features a hand-carved shield seat and crest rail. An exquisite paint-dip effect accentuates the unique hand-carved details and makes each chair unique. Made in the USA. O&G Studio's furniture is remarkable for its duality, fusing updated American Windsor-style design with a boldly modern color palette. Partners Sara Ossana and Jonathan Glatt's devotion to American design traditions is founded on the form-and-function relationship that marked it. Based in Warren, RI, Glatt and Ossana are steeped in the original Colonial design of the region, particularly Georgian and Greek Revival.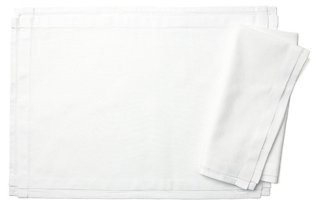 8-Pc Pleated Place Mat & Napkin Set – $52.00
Elegant pleating along each edge adds a refined finishing touch to this set of snowy place mats and napkins. Fino Lino brings a legacy of elegance to the table. Embellished with exquisite details like cutwork, embroidery, lace, and hemstitching, its imported linens are designed for today but recall the grace and grandeur of dining rooms past. Destined to be tomorrow's heirlooms, they rekindle a tradition of grace for your table.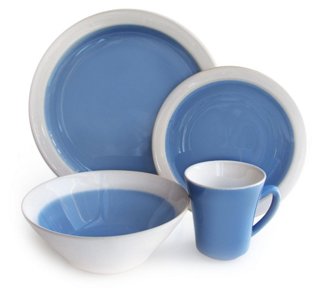 16-Pc Ashbury Dinnerware Set, Blue – $62.00
Serve up a meal for four with this sophisticated earthenware dining set, which consists of four dinner plates, four salad plates, four bowls, and four mugs. With their breezy styling and durable materials, Jay Import's tableware, serving pieces, and accessories are tailor-made for everyday dining and special-occasion entertaining alike.
14″ Striped Ginger Jar, Rose – $119.00
This classic stoneware ginger jar is updated with a modern drip effect in rose and white. Add it to the shelf of mantel for a bit of extra height.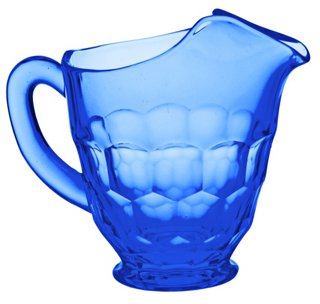 Large Chiseled Pitcher, Blue – $45.00
This handcrafted pitcher evokes memories–or fantasies–of sipping freshly made lemonade on a veranda glider under the languid breeze of a ceiling fan. It's certain to make any beverage you pour from it seem that much more refreshing. Made in the USA. Mosser Glass, located in Cambridge, OH, has been manufacturing quality hand-pressed glass products for more than 30 years. Ranging from simple to opulent, classic to colorful, it has a style to suit every home.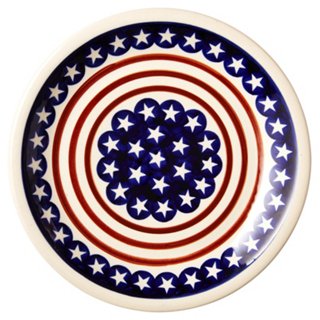 Stars & Stripes Luncheon Plate, 9.5″ – $24.00
Featuring a hand-painted stars-and-stripes motif that will give your table a bold, patriotic appeal, this plated is made from durable stoneware. With their bold patterns and rich colors, these hand-painted stoneware pieces are as much folk art as they are functional tableware. And functional they are. Made of a unique clay from a special region of Poland, they are extraordinarily chip- and fade-resistant and will safely (and beautifully) transition from oven to microwave to table to dishwasher.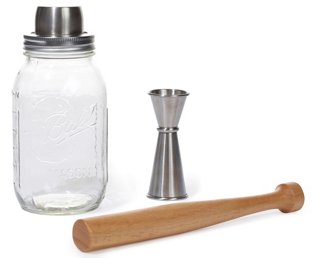 3-Pc Mason-Jar Shaker Set – $48.00
Craft the perfect cocktail anywhere with help from this drink-making kit. With a mason-jar shaker, a muddler, and a jigger, you can take your mixology on the road. Based out of Brooklyn, NY, W & P Design creates products inspired by combined passions for vintage Americana, southern sensibility, and New York industrialism. From their workshop to your countertop, they strive to bring you unique goods that pay tribute to both bygone American eras and modern usability, while staying true to their Southern roots.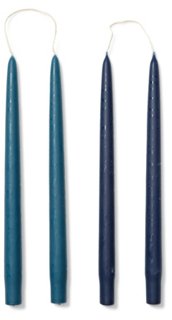 S/4 Ombre Tapers, Dark Blue – $20.00
Masterfully crafted from fully-refined paraffin blended with beeswax and carnauba wax, these hand-dipped taper candles will strike up an unforgettable ambiance. This set comes with four unscented candles. Creative Candles combines Old-world craftsmanship with current trends to create an extensive product line of candles we love. All candles are produced in small batches, and crafted by expertly trained artisans to ensure integrity and quality of each candle.
Which posh patriotic party supply do you like best?
This post contains affiliate links. This means that if you click on one of the product links, I'll receive a small commission at no additional cost to you.
More survival techniques: