Getting married and having a new last name can be very exciting for some women… maybe not as excited as the woman above, but taking ownership of a new last name can be fun! Have you ever thought about how pretty the letters of the alphabet are? Probably not, but when used in your home décor, those same letters (particularly your last name initial) can make your home look really classy. Here are a few examples of how simple letters can add elegance to any room in your home and help you celebrate your new last name!
Decorating with Monograms
I'm sure you've seen monogrammed towels. However, initials and monograms don't have to be limited to bathroom accessories. They also look great on lots of other things like throw pillows
, furniture, and even salt and pepper shakers.
Picture an old fashioned hutch with your initial carved into the doors. How about on the headboard of your bed? Wouldn't that look great? (Note: Carving your initial into furniture isn't something you should do yourself unless you're really good with a chisel!)
It's also not uncommon to see the initial of the homeowner on the front door. You can get your door customized that way, or buy an initial from a craft store, decorate it with some flowers or paint, and hang it like a wreath. You can also paint it on your door with a stencil. Not fond of these ideas? Try out a monogrammed doormat
!
Don't forget the walls. Again, using a wooden initial from the craft store, decorate it, and hang it on the wall. Or, if you're capable of using a small jigsaw, you can make your own in any size you'd like for a unique and classic decoration. If you're crafty, you can get a stencil and easily paint your initial anywhere in your home. If you have an initial with a hole in the middle, like O or D, you can even make a picture frame out of it by putting a picture of your family in the center. Not so crafty? Try a monogram wall decal
like the one shown above.
You can also etch your initial into your glassware
. With a stencil and some etching solution, you can turn dollar store wine glasses into a beautiful monogrammed set. This works for plates, glasses, and even things like butter dishes that sit on your table all the time.
While we're talking about tables, think about place mats and napkins. Both of those look great with a monogram or initial on them. You can also buy silverware with your monogram on the handle to match.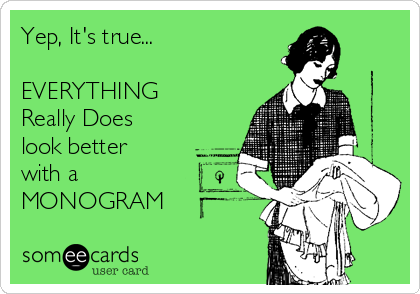 Monograms as part of home décor aren't just pretty – they also become keepsakes. Someday, your children and maybe grandchildren will think of you when they look at them. Monograms don't go out of style because they are representative of a person or family, not a fad.
Looking for more ideas? Check out my Decorating with Monograms Pinterest board.
Do you have any monograms in your home? How are you using them?
More survival techniques: