This post brought to you by Scotts Miracle-Gro. All opinions are 100% mine.
As it grows warmer, I am reminded that we really need to start working on our yard. This year we want to concentrate on making our beds look nicer so we have more curb appeal. I'll be honest, I do not have a green thumb, and neither does my husband. Although he is great at trimming bushes and taking away unwanted plants, neither of us is good at creating curb appeal. So, I have gone in search of inspiration, and here is what I found!
Inspiring yards
Based on the yards I like (3 shown below), I decided on the following:
We prefer a simple look (not too many different plants.
We like the contrast of mulch against the green grass and plants and would like to use mulch for sustainable gardening.
We would love to create curved paths and/or beds to make them visually appealing.
image via houzz.com
image via finegardening.com
image via bhg.com
Essential items to jumpstart our yard
So that we can achieve the look we want, we are going to need some gardening supplies:
Mulch. We are going to try the Scotts Nature Scapes mulch since it helps to maintain moisture, prevent weeds, and create a groomed landscape all year long. It comes in 3 different colors: Classic Black, Sierra Red, and Deep Forest Brown and all are natural forest products – no waste wood! For a Florida yard, we would use Scotts Florida Select Natural Eucalyptus Mulch. Eucalyptus is considered a renewable resource because it re-grows up to 4-times faster than Cypress!
Edging. Maybe a curved stone edging would look nice against the dark mulch?
Two or three types of plants. We like the look of small shrubs (trimmed tight) and hastas.
Where and how to mulch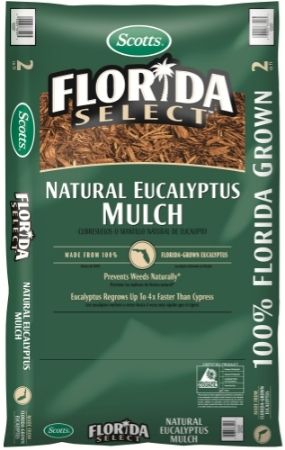 Scotts provides the following tips for using mulch:
How to Use: Spread 3 inches deep. Keep mulch several inches from tree trunks and house foundations or other wood structures.
Where to Use: Apply around trees, shrubs, flowers or vegetables after seeds have germinated and plants have developed.
Where Not to Use: Avoid use: Before seeds have germinated, around underdeveloped plants, and within several inches of house foundations or other wood surfaces.
If we keep to our inspirational photos and use these mulching tips from Scotts, we are going to have a beautiful front yard this year!
How about you? Do you use mulch in your landscaping?