Cold weather is coming and there is no avoiding it here in Pennsylvania! It is time to stock up on comfy sweaters for the winter season. You can feel free to buy 3 or 4 of these super cute sweaters I found on Lulus.com since each one is $40 or less. So pick up one for tailgating with friends, one for date night with your sweetie and another for a night on the town with the girls!
Which sweater will you be buying first?
19 Comfy Sweaters You Need in Your Closet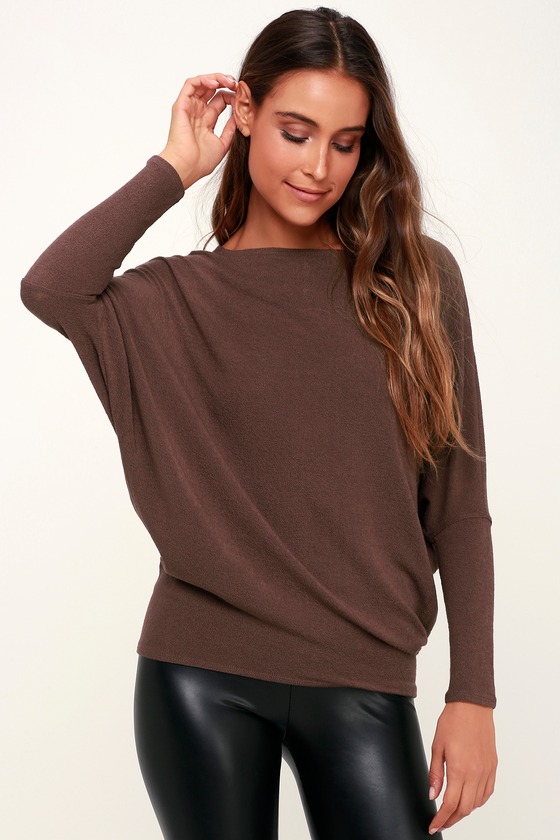 Hit up your fave cafe in the Lulus Basics Verla Washed Plum Purple Dolman Sleeve Sweater Top! This essential, everyday top will be your new go-to thanks to its soft, lightweight knit construction, and its cozy-yet-chic slouchy fit. Long, dolman sleeves and a rounded neck finish off the laid-back look. Pair with jeans and some cute booties!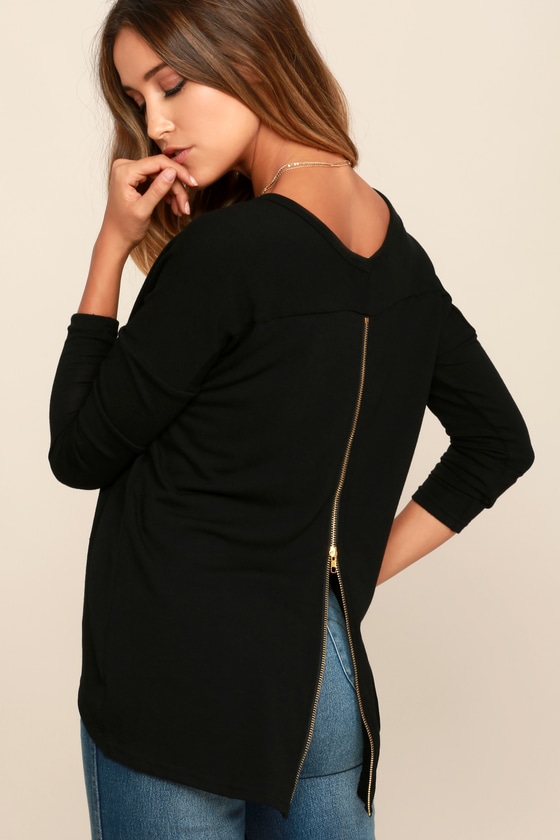 Did your heart just skip a beat? The Lulus Zip to My Lou Black Sweater Top has been known to have that effect! Soft black knit is just what you need, with long sleeves, a splendid scoop neck, and a high-low hem. An exposed zipper down the back adds a little edgy appeal in shiny gold.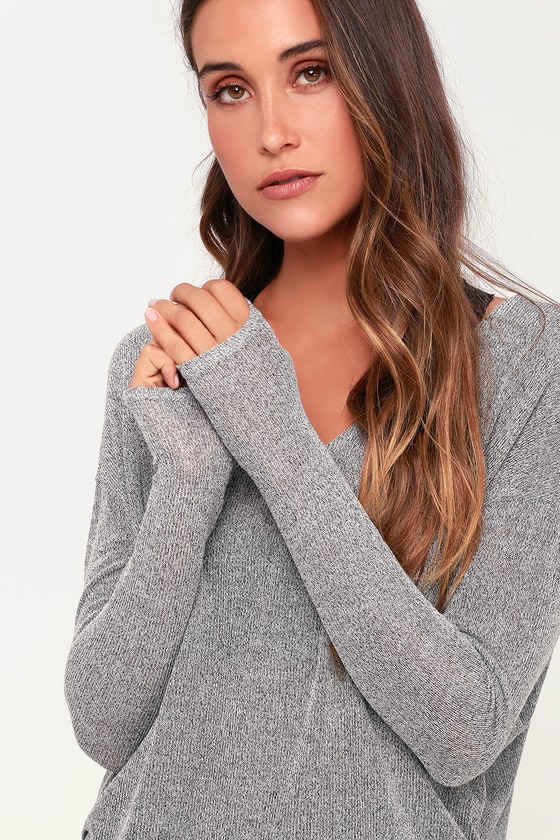 We're more than a little excited to rock the Lulus Basics Bevin Heather Grey Knit Long Sleeve V-Neck Sweater Top this season! Lightweight and slightly sheer knit shapes this versatile sweater top with a rounded V-neckline, long drop sleeves, and a relaxed bodice. The slightly rounded hem is going to look great with your fave jeans!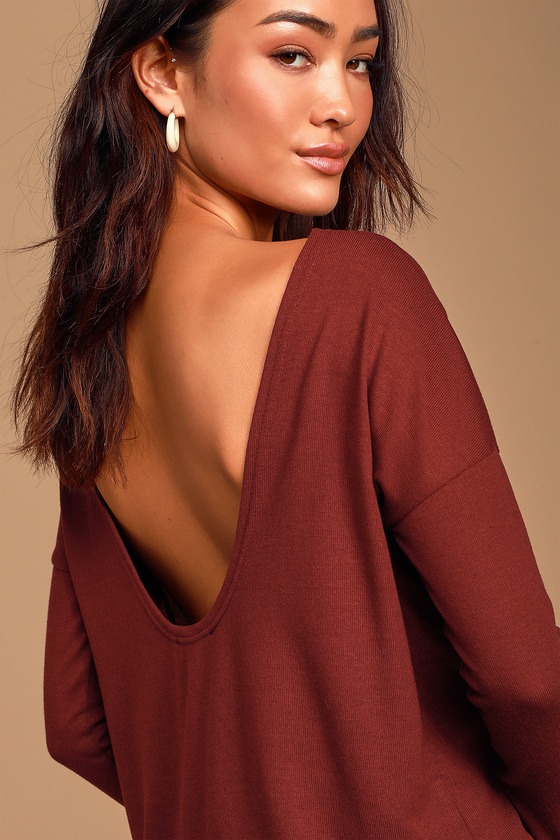 Lulus Exclusive! If your mind starts to wander it's probably because you are envisioning all the ways you'll wear the Lulus Afternoon Daydream Burgundy Backless Sweater! This cozy stretch-knit sweater has a wide, rounded neckline and long sleeves with fitted cuffs. A low-scooping open back on the relaxed bodice is perfect for showing off those lacy bralettes!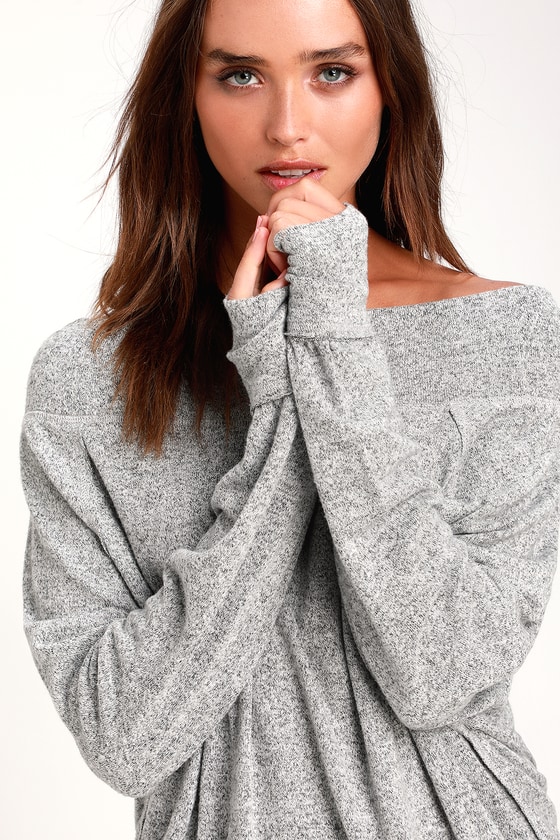 Lulus Exclusive! You'll be enchanted by the comfy cozy feel and the chic look of the Lulus Casual Magic Heather Grey Off-the-Shoulder Sweater Top! Heathered knit is soft to the touch as it shapes this sweater top with a banded off-the-shoulder neckline, long dolman sleeves, and a relaxed, slouchy bodice with a matching, banded hem. Seamed detailing throughout creates a raw, unfinished look.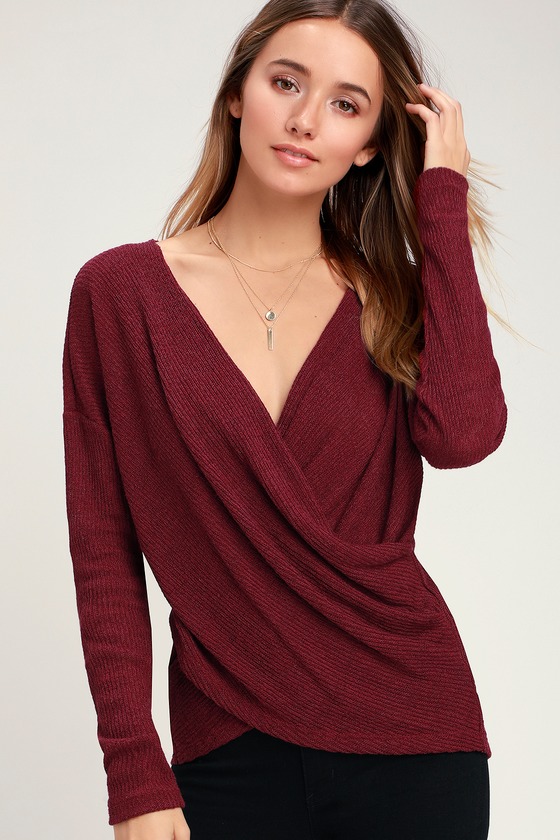 The LUSH Jordyn Wine Red Surplice Sweater Top is cute, casual, and ready for all your fall festivities! Light and soft knit fabric is slightly sheer as it shapes a plunging neckline and relaxed surplice bodice with a slight high-low hemline. Long fitted raglan sleeves frame the cute look. We are loving this top paired with skinny jeans and knee-high boots.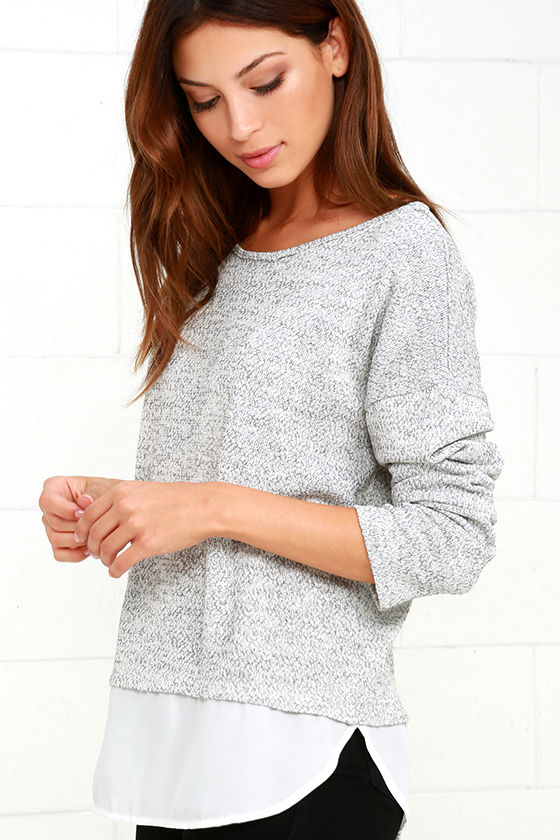 Everything is better with the Keep Me Company Grey Sweater Top! Soft marled knit is formed to a bateau neckline, long fitted sleeves, and a straight-cut bodice with a white chiffon hem.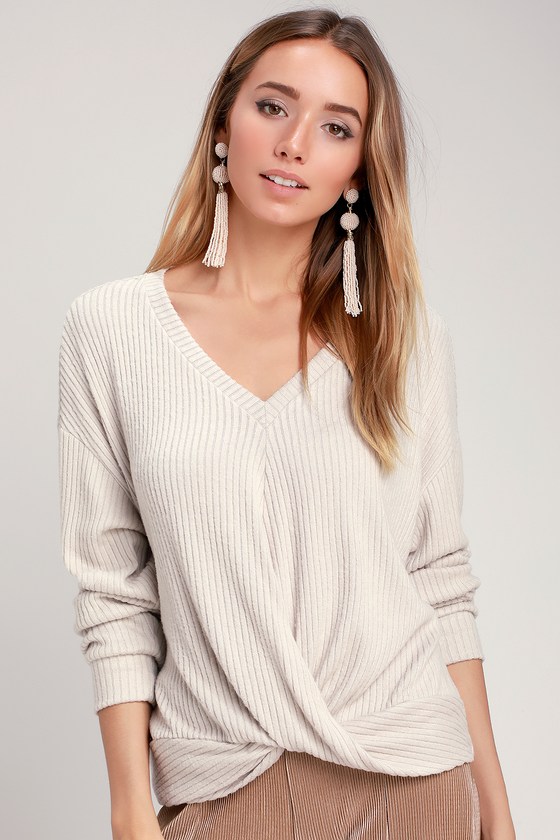 The LUSH Cozy Twist Light Beige Twist-Front V-Neck Sweater Top is a modern take on your favorite sweater top! Ultra-soft ribbed knit fabric shapes this cozy little sweater top with a ribbed V-neckline and long sleeves with fitted cuffs. The relaxed bodice ends in a looping twisted hemline. We are loving this sweater top paired with distressed jeans and some cute mules!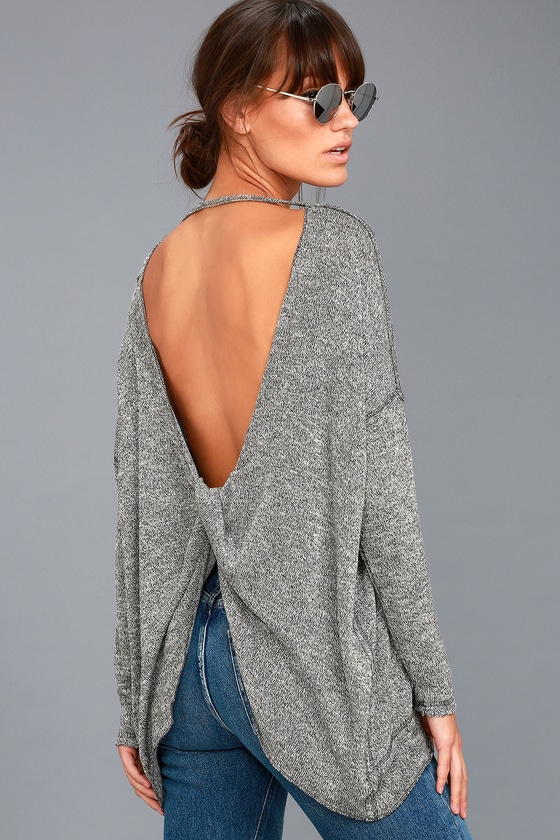 Embrace the cooling weather in the Lulus Hazey Baby Heather Grey Backless Sweater Top! Lightweight knit fabric shapes a wide-cut bodice, long fitted sleeves, and a rounded neckline. A slender strap crosses above the open back that twists at the hem to form a cool knot detail.
Slip on the Lulus Austra Blush Off-the-Shoulder Knit Sweater Top whenever you're in the mood for something snuggly! This ultra-comfy top is shaped by textured stretch knit that forms a folded (and elasticized!) off-the-shoulder neckline with long sleeves and fitted cuffs. A loosely fitted bodice is a perfect match for your favorite jeans!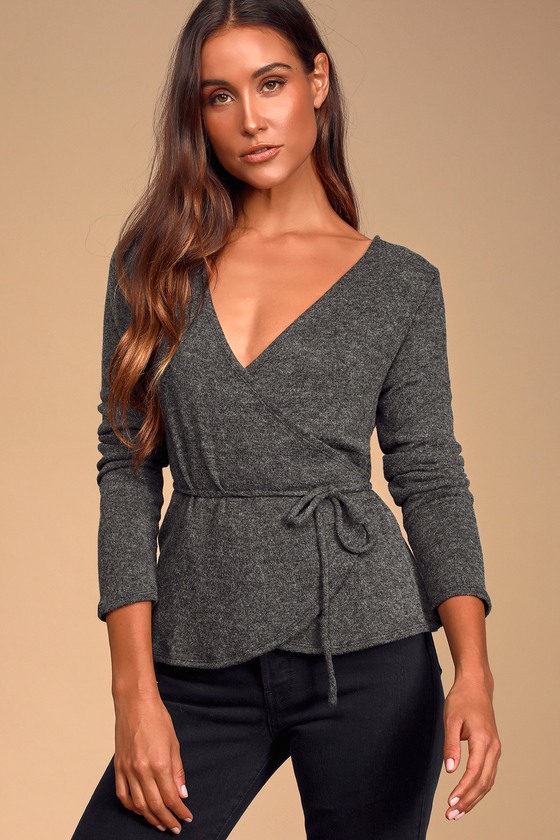 Lulus Exclusive! Make room in your wardrobe for the Lulus Happy Hearted Charcoal Grey Knit Wrap Sweater Top! Medium-weight knit shapes this adorable top that features long sleeves and a V-neckline, created by a wrapping bodice (with internal ties), finished with rounded hems. Pair with high-waisted bottoms and cute ankle boots!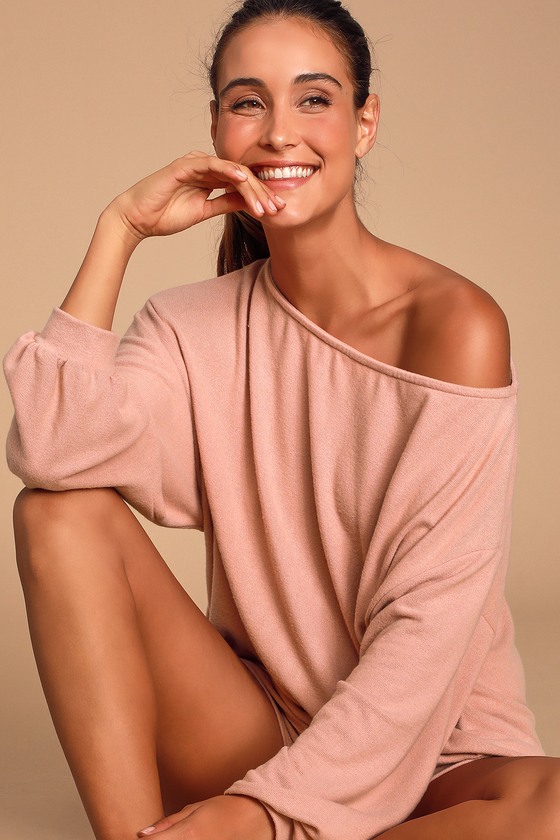 Sunday mornings were made for sleeping in and the Lulus Cozy as Can Be Blush Pink Sweater Top! Soft and snuggly lightweight knit falls from a wide bateau neckline into long sleeves with drop shoulders and fitted cuffs. The relaxed, boxy bodice is perfect for layering over a lacy cami or your favorite bralette.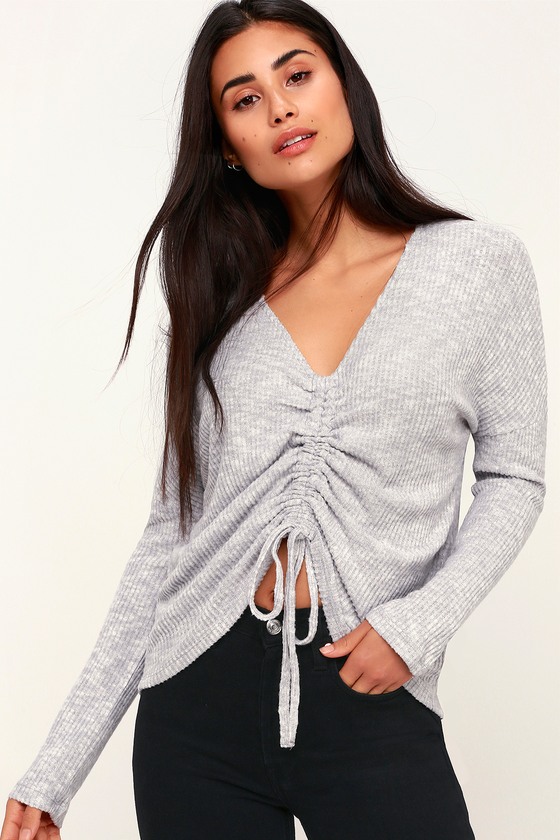 Lulus Exclusive! If you have an appetite for cozy, the Lulus Briony Heather Grey Ruched Long Sleeve Sweater Top is sure to hit the spot! Soft and stretchy ribbed knit shapes a sexy V-neck and long fitted sleeves. An adjustable ruched drawstring tie at the front adds some drama. Pair her with your fave mini and OTK boots for the cutest look around!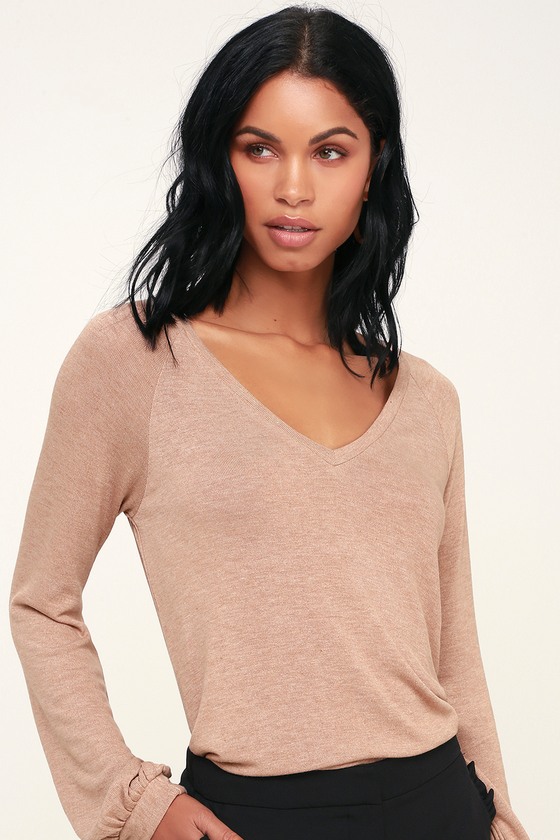 The Lulus Tori Taupe V-Neck Long Sleeve Sweater Top is great for layering, or all by itself! Lightweight knit is slightly sheer as it shapes a V-neckline, and cuffed long sleeves. Relaxed, wide-cut bodice. Pair with jeans and boots for an everyday look, or add a moto jacket to make it night-out worthy!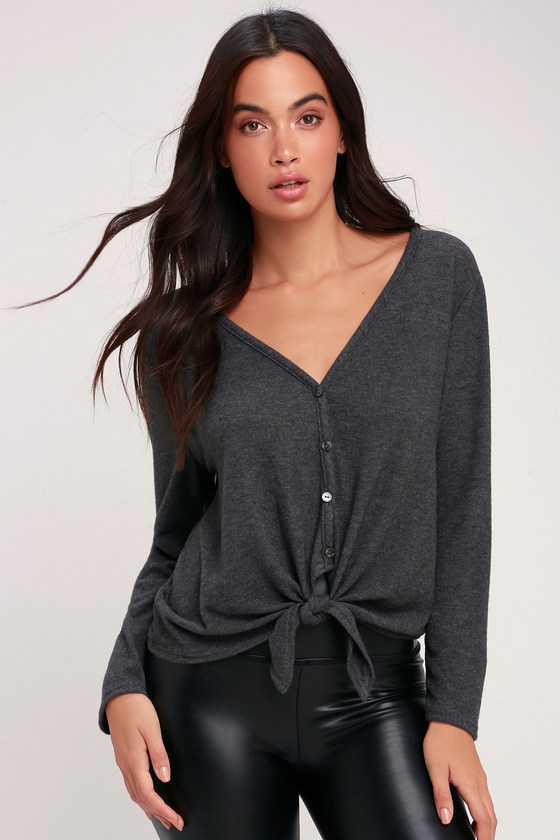 Take that warm and fuzzy feeling with you wherever you go with the Lulus Marnier Washed Charcoal Grey Tie-Front Button-Up Sweater Top! Soft and stretchy knit shapes this perfectly warm sweater top complete with a V-neck, long sleeves, a round button placket, and a trendy tie front detail.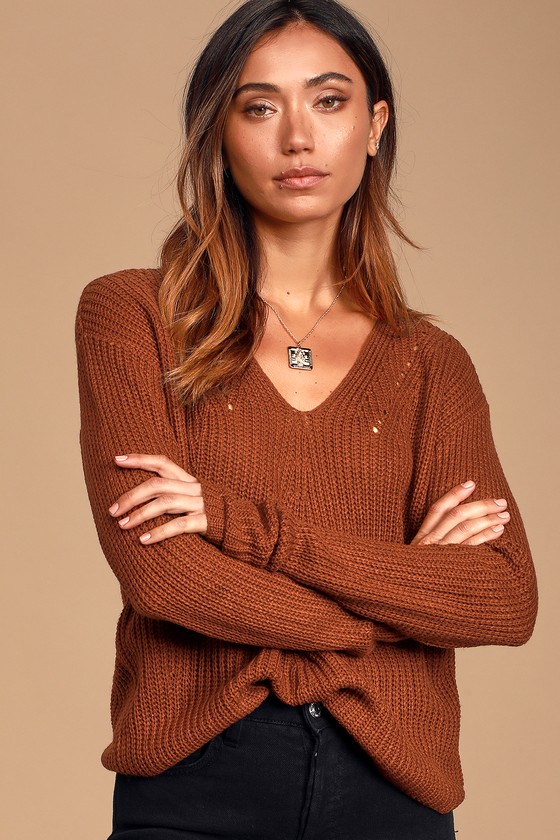 Get ready for the cool days ahead in the Lulus Halifax Rust Red Knit Sweater! Soft, loose knit shapes this adorable sweater that features a pullover design, drop shoulders, long sleeves, and a V-neckline, trimmed with pierced detail. The relaxed-fit silhouette and slightly cropped hem make this sweater perfect to tuck into your favorite high-waisted bottoms!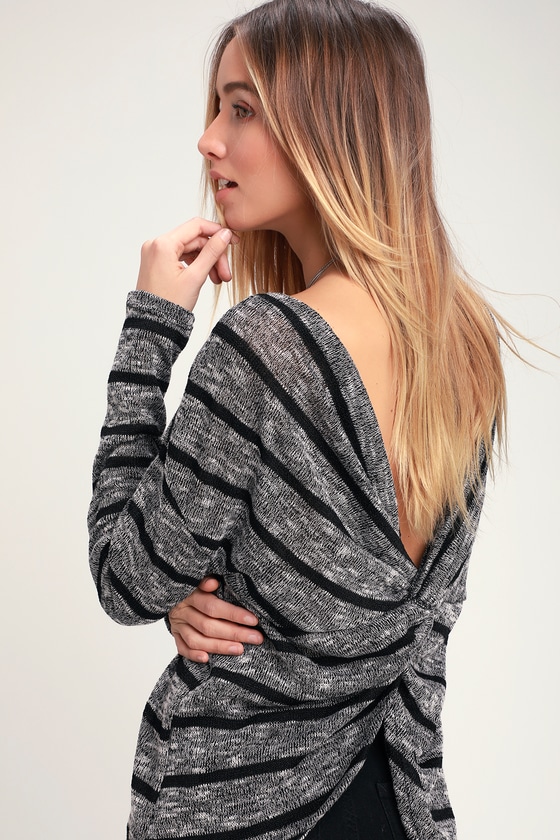 The LUSH Banbury Heather Grey and Black Striped Loose Knit Sweater Top is the perfect combination of cozy and sexy! Lightweight loose knit fabric, in a heather grey and black striped pattern, shapes a rounded neckline and fitted long sleeves. Relaxed, wide-cut bodice and a cool open back, with a trendy twisted detail, complete the look.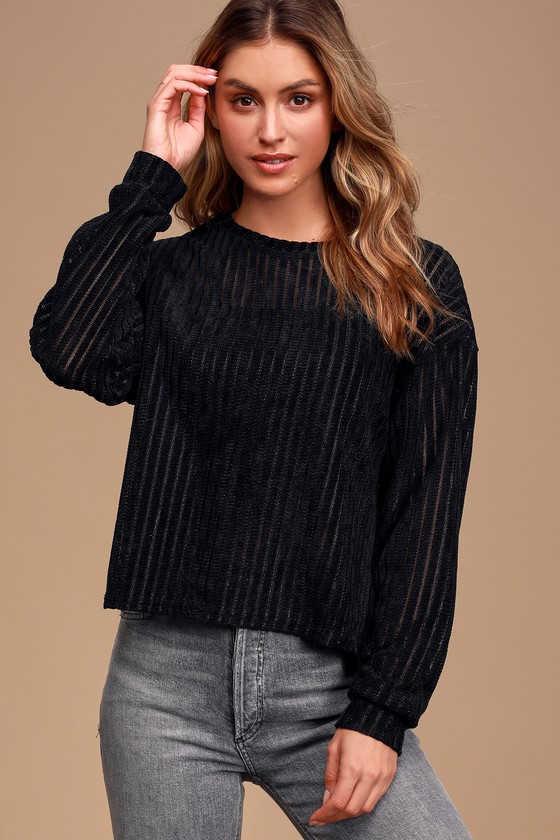 Soft to the touch, the Lulus Weekend Ready Black Chenille Striped Sweater Top is a cold-weather essential! Soft stripes of chenille and sheer knit shape this cozy sweater with a rounded neckline, long sleeves with banded cuffs, and a relaxed boxy bodice. Layer over a lace bralette or basic cami and pair with high-waisted jeans for a perfectly put-together look!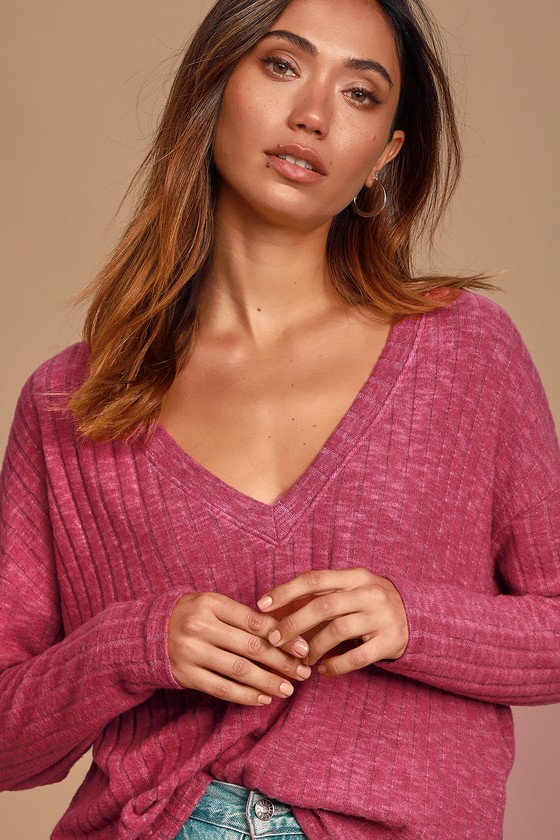 Stay cozy all season long in the Lulus Aubriella Heather Pink Ribbed Sweater Top! Ultra-soft ribbed-knit shapes this lightweight sweater top with a deep V-neckline, wide-cut bodice, and fitted long sleeves with trendy drop shoulders. The slightly cropped hem is perfect for tucking into high-rise bottoms!
It is hard to pick which one of these comfy sweaters is my favorite. Which one is yours?
More survival techniques: