This post about the surprising items you can carry on an airplane is intended for an audience of adults age 18 and older and has been compensated by Collective Bias, Inc. and its advertiser. All opinions are mine alone. #CueTheNewYear #CueVapor #SatisfactionAtLast #CollectiveBias
As one of our New Year's goals for 2018, Dan and I have decided that we are going to travel more. This means we need to get our act together and start planning. This is something that Dan loves to do. He fished out his favorite whiteboard and has started covering it with ideas. Since Dan has been working really hard on mastering the German language, we have decided that we will be going to Germany this year and will stay for at least one month. As far as other trip ideas, we haven't narrowed it down yet.
The other day my friend Lanie was over and saw Dan's whiteboard. I told her about our travel plans, and she said that she and her husband would also like to travel more this year. They are planning a trip for the spring and another big one in the fall. She was also telling me that to help her crush one of her other New Year's goals, she recently switched to the Cue™ Vapor System. I've obviously been around Lanie when she vapes, but I never really knew much about it. Turns out, the Cue device is designed to be simple enough that anyone can take it out of the box, insert a cartridge, and vape. She really enjoys how easy it is to use and the great choice of flavors they offer.
The refill cartridges not only come in different flavors like fruit and mint but also in different nicotine strengths: 0, 3, and 6 mg/ml. Hover over the image below to purchase your own.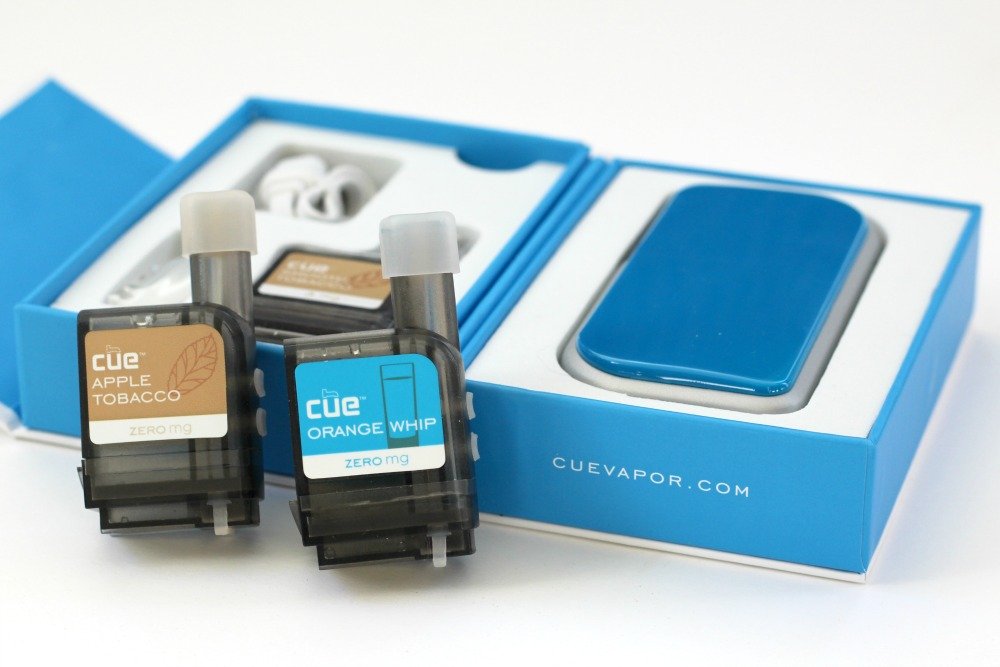 Since traveling with a vape is new for her, Lanie said she wasn't sure if she would be allowed to bring her Cue Vapor and the cartridges on the plane with her. We looked it up online, and luckily, she can carry on both the Cue Vapor Device and the replacement cartridges since they meet the TSA requirement of being less than 3.4 oz (100 ml).
This is how we came upon the somewhat amusing list of items the TSA will (and won't) allow you to carry on an airplane, and found ourselves giggling reading through the list. Here are some of our favorite surprising items you can carry on an airplane:
1. Bowling ball
You never know when you might want to bowl on vacation right? No worries! Bowling balls are allowed to be carried on to airplanes. However, you'll have to make room in your checked luggage for the pins. They are a no-go for carry-on bags since they can be used as a bludgeon.
2. Handcuffs
Want to make sure your spouse stays in their seat? Feel free to bring handcuffs along for your flight. Or maybe you could raise the eyebrows of other passengers and walk on the flight wearing them!
3. Life vest
Flying over water? Bring your own life vest with up to two CO2 cartridges inside. Now the only decision is whether you should wear it on the plane or put it in your bag.
4. Shock collar
I'm not really sure what to say about this one. Maybe we will assume you have a dog along for the flight?
5. Rocks
Bringing your pet rock along for the trip? No problem! He (or she) can enjoy the flight right by your side. Or maybe you can't bear to leave your rock collection behind? You can save some weight in your checked luggage and carry the collection on the plane.
6. Antlers
Bag a buck while vacationing? Impress your fellow passengers by carrying the antlers on the plane with you! You'll want to check with the airline to make sure they will fit in the overhead bin or underneath the seat.
7. Body armor
Renaissance fair on your traveling agenda? You are in luck! Just pack up that body armor and feel free to carry it on the plane with you.
8. Live fish
Don't want to leave Nemo behind when you visit the in-laws? A live fish in water is allowed after inspection by a TSA officer.
9. Parachute
If bringing a life vest isn't enough for you, you can also carry a parachute on an airplane. It needs to be packed separately from other items and may be unpacked and inspected by TSA, but maybe the hassle is worth it to you?
10. Magic wand
Ever wish you could get the passenger next to you to stop snoring? Just pull your magic wand from your carry-on luggage and cast a spell.
11. Space Warrior Laser Sword
No space warrior should be caught without their laser sword handy. Fortunately, you can pack a toy laser sword in your carry-on bag in case space villains attack mid-flight.
Now that both Lanie and I know what we can bring with us on a plane, we are better prepared to get more travel in this year!
How about you? Are you going to crush your New Year's goals this year? Will you be trying the Cue Vapor System? What trips do you have planned?
Find out where you can purchase Cue Vapor near you.
You can also sign up for their subscription program and save 15% on cartridges!
NOT FOR SALE TO MINORS. California Proposition Warning statement: "WARNING: This product can expose you to chemicals including nicotine, which is known to the State of California to cause birth defects or other reproductive harm. For more information, go towww.P65.com. WARNING: This product contains nicotine. Nicotine is an addictive chemical. Cue™, the Cue Logo and Vaping. Made Simple.™ are trademarks of Digirettes, Inc.
More survival techniques: